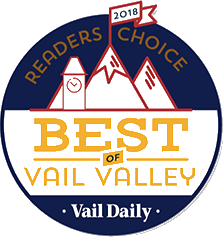 Best Snowboard Shop of Vail: Buzz's Boards
Buzz's Boards started selling snowboards in a time when you couldn't ride them on the nearby slopes of Vail Mountain, demonstrating the shop's ear-to-the-street philosophy, which persists to this day. 
"I believe our commitment to locals is what has kept us in business while the other shops have come and gone," founder Buzz Schleper said.
Schleper works the shop with his son, poly extreme athlete Hunter Schleper, when Hunter is not skiing, snowboarding, snowskating, snowmobiling or riding a timbersled.
"We'll all be there doing it again this winter," Hunter confirmed.
And by all, he means the shop dogs, Mojo and Kingston, as well. Catch Kingston working the door while Mojo guards the register from a resting position on the counter.
In creating an atmosphere that's beloved by locals, shop manager Neil Conroy said they've earned the respect of Vail's many repeat guests, as well, who visit the town year after year.
"We enjoy what we do and it shows," Conroy said.
---
1 comment